INCI – What's In A Name?
September 27, 2022 @ 1:00 pm

-

3:30 pm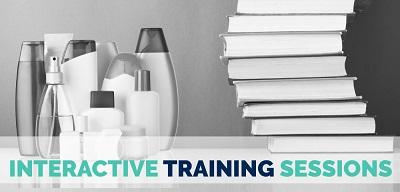 Tuesday, September 27, 2022 – 1:00 pm – 3:30 pm EDT
INCI nomenclature and the INCI registration process are important for stakeholders in the cosmetics industry to understand before selecting ingredients at the product development stage.
This interactive training session (which includes activities and a quiz) will help you learn and understand:
o  The new INCIpedia platform as a resource *NEW
o  The history and background of INCI
o  The Canadian cosmetic ingredient labelling requirements (refresher)
o  The International perspective
Canada (CUSMA)
European Union Cosmetic Ingredient Database (Coslng)
o  How an INCI name is designated
Application process
INCI conventions
 Publication
o  INCI name changes
o  wINCI and the InfoBase as resources
Each session includes exercises, a quiz and a Q&A session.
Training Certificates are issued for your records to each individual successfully completing the quiz.
Individual logins are required for each participant to obtain a training certificate.

About the Trainers
Joanne Nikitakis
Sr. Director of Cosmetic Chemistry- Personal Care Products Council
Joanne Nikitakis is a member of the science team at the Personal Care Products Council as the Sr. Director of Cosmetic Chemistry. In her role, she serves as the staff liaison for the Council's Quality Assurance Committee and International Cosmetic Ingredient Nomenclature Committee, and provides technical support for activities associated with these Committees. For more than 25 years, Joanne has been involved with the development of the INCI nomenclature program and publication of the International Cosmetic Ingredient Dictionary and Handbook in which she serves as principal editor. Joanne has also served as editor of the Council's Quality Assurance Guidelines, and the Compendium of Cosmetic Ingredient Composition.
Ms. Nikitakis received her B.S. degree in Chemistry from the University of Mary Washington in Fredericksburg, Virginia, and M.S. in Pharmaceutical Sciences from the University of Cincinnati, College of Pharmacy in Cincinnati, Ohio.
Richard Parcels
Assistant Director, Regulation & Market Access – Cosmetics Alliance Canada
Richard Parcels is the Assistant Director, Regulation & Market Access for Cosmetics Alliance Canada. He works to enhance and protect the ability of member companies to conduct business effectively in Canada by fostering industry and government cooperation and by using sound science and risk-based approaches to inform and shape regulation, policy and guidance.
Richard has over twenty years of experience in the pharmaceutical, natural health product, cosmetic and medical device fields. He obtained a B.Sc. in Microbiology from the University of Guelph and has previously worked at Agriculture Canada, Warner-Lambert Parke-Davis, AstraZeneca, Estee Lauder and as an industry consultant for 12 years. He specializes in regulatory affairs, quality systems, training and auditing.