Elizabeth's 97th birthday was celebrated in style with a live studio audience at TSC on January 25th, at the TSC studios in Mississauga. Guests in attendance included some of the original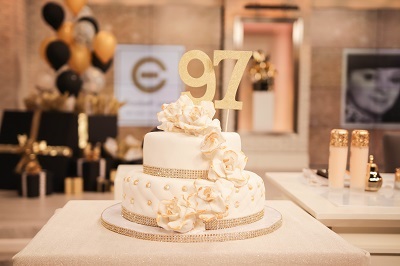 Torricelumn™ Girls who have been using the products for over 20 years, as well as the extended TSC family and social media influencer fans of the brand. The goal was to show appreciation for Elizabeth, and to let her know how many lives she has touched. The live studio audience was broadcasted over FacebookLive and wishes flooded in from Canada coast to coast. Elizabeth was presented with a birthday cake, and was visibly moved by the outpour of love.
Today's S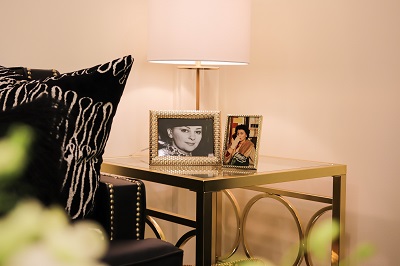 hopping Choice unveiled the new "Elizabeth Grant" guest room, with a dedicated plaque outside and fabulous gold and leopard print decor. An honour only bestowed once before in the history of TSC to Joan Rivers post mortem, this incredible achievement is a true testament to how valued Elizabeth has been as the number one vendor on TSC for the past 22 years and how her legacy will live on for years to come.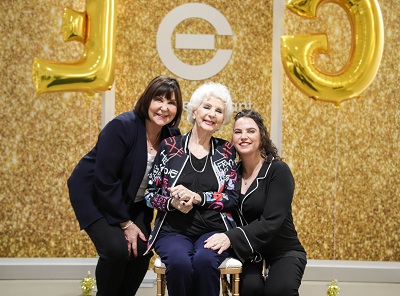 Elizabeth is a dynamic, fearless and a powerful leader in the beauty industry. As a trailblazer and category disrupter she opened up opportunities for women in business for decades to come. Kind, funny, smart, loving Elizabeth wants everyone around her to feel good about themselves and know when we shine with positivity and grace it ultimately encourages the world around us to become a little brighter. Elizabeth is a champion for the world around her to be a little happier, funnier and more comfortable with who we are, and who we want to become.
More about Elizabeth Grant, CEO, Founder:
Elizabeth has been in the skin care business for over 60 years and is one of the industry's leading pioneers. It all began with an accident; Elizabeth's skin was badly damaged when she was burned by a bomb blast in London during the Second World War.
At the time, Elizabeth was working as a makeup artist for the famous actors of her generation including Noel Coward, Margaret Lockwood, and Gone with the Wind's Vivien Leigh. After the bomb blast had damaged the skin on her face, Elizabeth felt very self-conscious and hid her scars with makeup. One lucky day, Elizabeth came upon an ingredient in her doctor's office, which inspired her to formulate her first experimental serum. She applied it to her face, and saw a miraculous change in the look of her skin. The damage and the scars seemed to heal. Elizabeth reformulated the special serum creating her very first skin care product using her exclusive propriety ingredient, Torricelumn™.
Elizabeth used her product on her celebrity clients and they begged her for more when they noticed the incredible difference in their skin. Their skin glowed, was smoother than ever and looked plump and youthful. Word got out, and Elizabeth soon began to be known as somewhat of a skin care guru with a miracle ingredient.
Then in 1958, a period in history that was not friendly to female entrepreneurs, and despite all odds, Elizabeth bravely went knocking on the doors of the finest retail shops in London, hoping to sell her product. Her skin care product, with its amazing reviews, was quickly scooped up by a top department store, and the rest is history. She was a true trailblazer launching her company in the late fifties and she opened up opportunities for women in business for decades to come.
Elizabeth travelled the world with her skin care products but eventually settled down in South Africa with her husband and raised a family. Elizabeth Grant Skin Care continued to grow for many years and was a well-known brand in the UK and South Africa.
In the early 1990's, Elizabeth moved to Canada with her son and daughter in law after her husband passed away. After a few years in Canada, Elizabeth found herself feeling uninspired, she was never one to sit still. It was then, in 1999, that Elizabeth and her daughter in law, Marion, decided to relaunch Elizabeth Grant Skin Care in Canada. Marion knew, that with Elizabeth's charismatic personality and knowledge of the beauty industry, the shopping channel would be the perfect platform for the products.
Thanks to Elizabeth's incredible ability to deliver entertaining, informative, and inspiring television appearances, along with an incredible product, and Marion's business acumen, Elizabeth Grant Skin Care quickly became the highest selling beauty vendor on The Shopping Channel in Canada. It was a recipe for success. Elizabeth's fan base grew quickly. Her positivity and authenticity shone through in each and every one of her appearances. Elizabeth wants everyone to feel good about themselves and she tries to make the world around us seem a little brighter.
Today, Elizabeth Grant (now in her mid-90's) still makes special appearances on the Canadian Shopping Channel alongside her granddaughter, Margot, and daughter-in-law, Marion. When asked about her greatest achievements, Elizabeth answers "women come up to me and say, 'thank you Elizabeth for changing my life', but I quickly say 'no, thank you, you've changed my life. You give me a reason to get up in the morning.'"